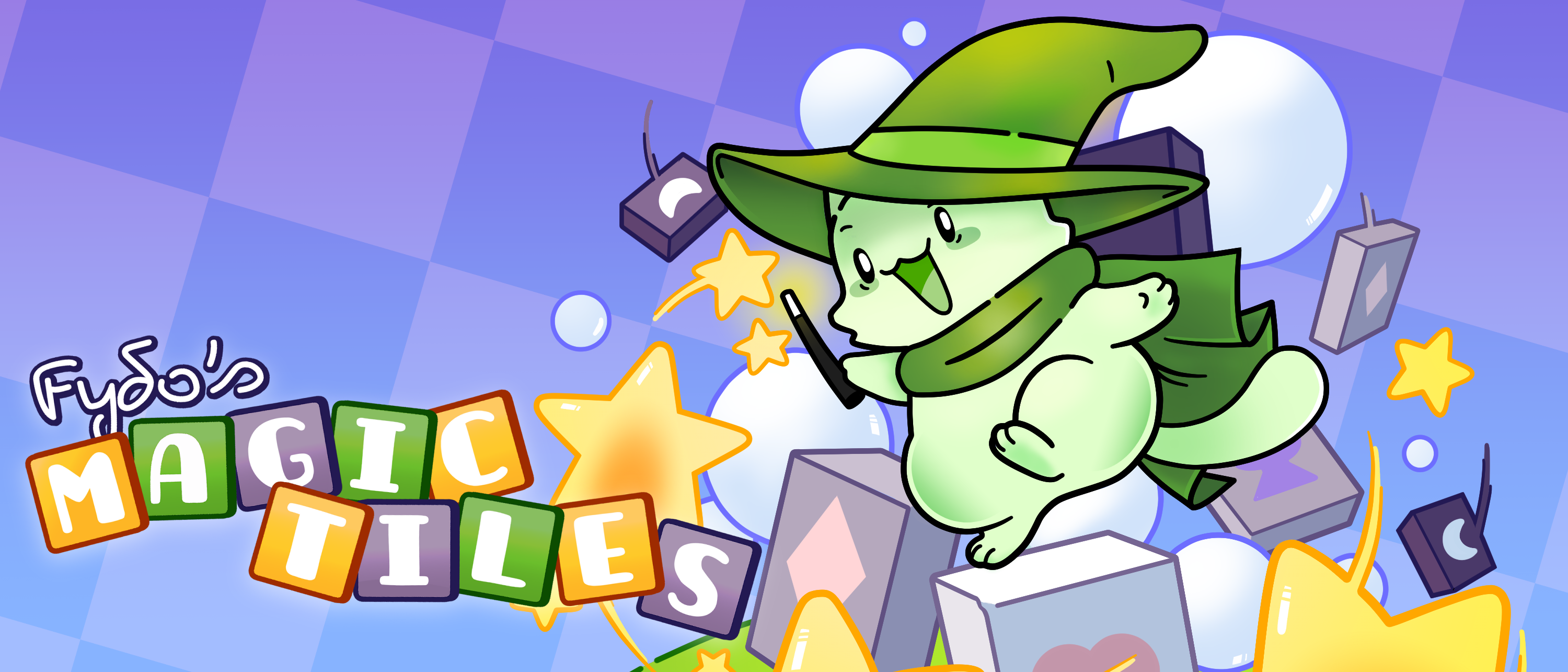 Fydo's Magic Tiles
CONTROLS FOR WEB
In menu: Press ENTER to start the game. Use the ARROW KEYS to move the cursor. Press left or right to adjust sliders. Move the cursor to the bottom and press Z to see the "STAR TILES" menu. From there press X or select "GO BACK" to return to the game options. In game: Use the ARROW KEYS to select a tile. Press and hold Z to grab it. The cursor will change color. Then press the ARROW KEYS to move it. Try to match at least four in a row, horizontally or vertically. Press ENTER to pause the game. See the manual for more information.
Fydo's Magic Tiles is a match-four action puzzle game for Game Boy and compatible systems! Match at least 4 tiles vertical or horizontal and clear them from the board. Pop magic bubbles with a match right next to them. Match 6 or more to start a combo, and keep matching to get bonus stars! Find and unlock all 17 Star Tiles to complete the game!

GAME FEATURES

Game art by Tom Sutton & featuring art by Graylure.
Cute character, Fydo!
Featuring 3 banger tracks by Max Chappell. Soundtrack includes all the original compositions, the Game Boy mixes, and 2 unreleased tracks in FLAC and MP3.
The whole game is 32 kilobytes!
This game is free to play online. (You will get better responsiveness from the ROM.)
Support the project at any amount over $1 USD and get the digital soundtrack and pdf manual.
Support the project for at least $4 USD, and you'll get the ROM to play on an emulator of your choice or to flash to a cartridge of your own.
Support the project for at least $50 USD and I will mail you a Fydo's Magic Tiles: Special First Edition physical game cart for Game Boy compatible game systems! (Worldwide non-tracked standard postage included, only 100 available). This includes a mini game box, mini handbook, three 2" stickers, a 1" pin, and a shipping tin with custom sleeve. Please allow 4-5 weeks for assembly and delivery. Click the "Get for $50" button in the description below to claim this reward.
Download
Click download now to get access to the following files:
if you pay $1 USD or more
Soundtrack (FLAC and MP3).zip
78 MB
if you pay $1 USD or more
if you pay $4 USD or more
Exclusive content
Support this game at or above a special price point to receive something exclusive.
Support & Receive a Physical Cartridge
If you love this game, get a physical copy for play on your handheld!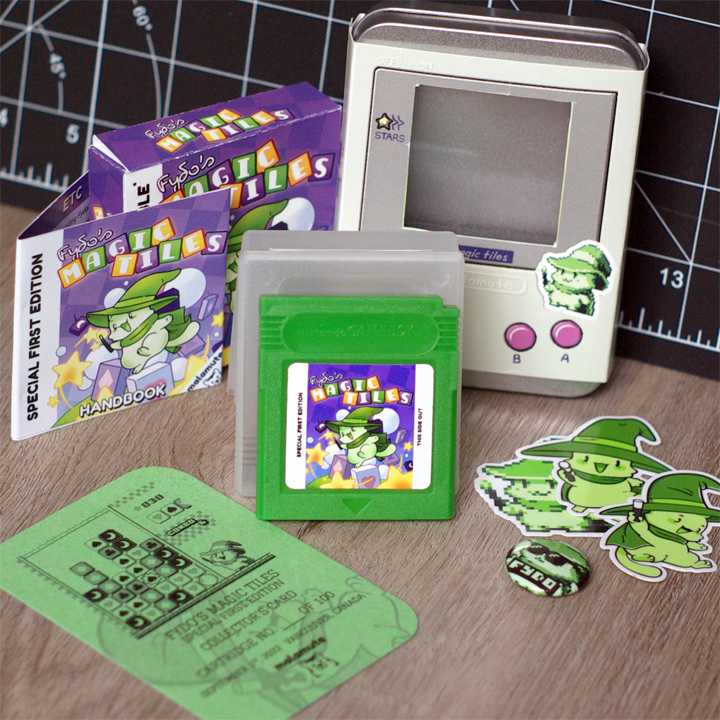 This handmade package includes:
Green game cartridge for play on Game Boy compatible game systems with cartridge case.
- Mini box and mini game handbook.
- Three 2" Fydo stickers.
- One 1" Fydo pin.
- Collector's card.
- Shipping tin with custom sleeve.
- Includes worldwide, standard parcel postage (no tracking available). Please allow up to 4-5 weeks for assembly and shipping.